You are currently browsing the category archive for the 'Blogroll' category.
The stats on ಅಲ್ಲಿದೆ ನಮ್ಮ ಮನೆ indicated today was the day with the highest number of hits in the last 7+ years! A quick look showed most of the people were searching for the phrase "Kannada Rajyostava" reached my post from 3 years ago. It's then I found that I never posted an audio of the Varna (my composition in Raga Madhuvanti) that I promised to do in that post.
Anyway, let me cut the chaff. A Varna is a musical composition that generally has a romantic theme, and the words go as a conversation between two friends, where in the nAyika is telling about her lover to her friend. Varnas are set to music such that they give a very good overview of the various musical phrases any given raga accommodates. Generally sung at the beginning of a concert in multiple speeds, a Varna is often employed by performers as a quick way of 'getting to the form' when on stage.
The lyrics of a large number of Varnas are in Telugu, but that does not mean there aren't any Varnas with words in other languages such as Kannada, Tamizh or Samskrta. Since this is Kannada Rajyotsava, I am sharing a Varna I composed, with it's sahitya lines in Kannada.
True to the style of Varnas, the lyrics stick to a romantic format. The Varna is in raga Madhuvanti, a northern import to Karnataka sangeeta, and is set to   2 kaLe Adi tALa.  The lines are are inspired by a shloka of Bilvamangala in his classic Krishna Karna Karnamrta.
Pallavi:
ಗೋಕುಲವೆಲ್ಲಾ ಕೊಳಲಿನ ಇನಿದನಿಯಲಿ ತುಂಬಿದನೇ ||
gOkulavellA koLalina inidaniyali tumbidanE
(Translation: He filled Gokula with the melodies his flute)
Anupallavi:
ಅನುಪಲ್ಲವಿ: ಆಕಳ ಮಂದೆಯ ಕಾಯುತ ಗೋಪಿಯರ ತಾನು ಗೆಲಿದನೇ || ಗೋಕುಲವೆಲ್ಲಾ||
AkaLa mandeya kAyuta gOpiyarellare gelidanE
(Translation: The cowherd, won over the hearts of all gopis)
CharaNa:
ಚರಣ: ಮಾತೇ ಮಧುವಂತಿದೆ! ಸಖೀ, ಇವನ || ಮಾತೇ||
mAtE madhuvantide! sakhi ! ivana || mAte||
(Translation: His speech is like honey! Oh my dear!)
The charaNa line was totally my imagination, to include rAga name "madhuvanti" (technically called the ragamudre),
You can listen to a recording of the Varna, played on the flute by Vidwan Vijay Kannan:
https://soundcloud.com/hamsanandi/a-varna-in-madhuvanti
For those of you interested in the notation, click the following links:
A-Varna-in-Madhuvanti (Kannada version)
A-Varna-in-Madhuvanti (Notation in English)
ಎಲ್ಲ ಕನ್ನಡಿಗರಿಗೂ ಕನ್ನಡ ರಾಜ್ಯೋತ್ಸವದ ಶುಭಾಶಯಗಳು!
-neelanjana
The stats helper monkeys at WordPress.com mulled over how this blog did in 2010, and here's a high level summary of its overall blog health: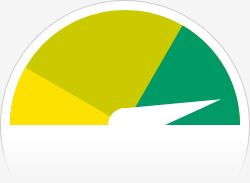 The Blog-Health-o-Meter™ reads Wow.
Crunchy numbers
About 3 million people visit the Taj Mahal every year. This blog was viewed about 42,000 times in 2010. If it were the Taj Mahal, it would take about 5 days for that many people to see it.
In 2010, there were 31 new posts, growing the total archive of this blog to 159 posts. There were 214 pictures uploaded, taking up a total of 73mb. That's about 4 pictures per week.
The busiest day of the year was January 28th with 326 views. The most popular post that day was What's Wrong With Michael Wood's 'The Story of India'?.
Where did they come from?
The top referring sites in 2010 were rasikas.org, sampada.net, twitter.com, facebook.com, and kn.wordpress.com.
Some visitors came searching, mostly for tirupati, tirupati balaji, eclipse, balaji, and tirupati temple.
Attractions in 2010
These are the posts and pages that got the most views in 2010.
1
What's Wrong With Michael Wood's 'The Story of India'? January 2009
10 comments
2
ದೀಪವು ನಿನ್ನದೆ, ಗಾಳಿಯು ನಿನ್ನದೆ September 2007
26 comments
3
Lord Venkateshwara and Udupi Restaurants … February 2009
6 comments
4
The Great Indian Eclipse? June 2009
2 comments
5
Govinda Smarane and Blog Hits March 2009
3 comments
Why did I post this? Since there was no typing (well, almost) involved 🙂
Happy new year 2011 to all the visitors to "Allide namma mane"!
-neelanjana
We all have some treasures that we cherish and wish to keep them ourselves. But there are some treasures that multiply when we  share them with others!
न चोरहार्यम् न च राजहार्यम् न भ्रातृभाज्यम् न च भारकारि ।
व्यये कृते वर्धत एव नित्यम् विद्या धनम् सर्वधनप्रदानम् ॥
na chOra hAryam na cha rAja hAryam na bhAatr bhAjyam nacha bhArakAri
vyayE krtE vardhata Eva nityam vidyA dhanam sarva dhana pradhAnam
Yes; there is one treasure that grows as you spend it. This treasure can not be robbed by thieves, nor could this treasure be taxed by the government. It can't be divided among siblings nor is it a heavy load to carry. Unlike other treasures, this one grows when you spend it! This treasure called the 'knowledge' (Vidya) is the most important treasure that you could ever possess.
The best way to share your knowledge is by choosing a teaching profession. But do not despair if you are not in a position to do that. If it were a couple of decades ago, it would almost be impossible for you to share with others what you know in a meaningful way, unless you happened to be an author, or a teacher of some sort. Not the same case anymore. The Internet age has made it possible for anyone to spread the knowledge they have much more meaningfully, and also made it easier to target that knowledge very specifically to those for whom it is useful.
Sure, it may be possible for you to market your skills outside your current profession to make some money. But everyone does not have the time and resources such a second vocation demands. So what should you do?
Share. As in freely sharing what you know. The possibilities are limit-less, and confined only by how much time you can spare, and your imagination.
Consider becoming a blogger and start writing about things you care or you know well. You will definitely make new friends who share your interests. You can share information useful to your blog visitors, and you will also end up learning quite a bit in the process. Although blogs were initially supposed to be some kind of web diaries, these days you can see lot's of 'how to' blogs that can teach you anything from planting tomato seeds to installing hardwood floors!
Another good way to share your knowledge is becoming a member of a community blog or a specialty forum. I have been participating in different music related forums for quite sometime. This has enabled me to enjoy it better than what I would have done otherwise. I also have the satisfaction of answering question others with similar interests might have.
A bit more involved way which takes a bit of extra effort  from you is going the Wikipedia way. Wikipedia is an online encyclopedia, available in more than 200 languages. You can a contribute articles to Wikipedia on any subject you good at. If you are proficient in more than one language and you don't want to be involved in the reference-citing that Wikipedia requires when you write articles, you can translate existing articles in one language into another, thus opening up a knowledge base to new readers.
So, what are you waiting for? Follow my suggestions, and share your treasures the e-way. I promise you won't be disappointed, and find it very fulfilling.
But if you aren't faint-at-heart like I am, and want to go the extra mile, you should set someone like my fellow blogger Vidya as an example. Dr P P Narayana Swamy and Vidya, after publishing the English translation of Subburama Dikshitar's Sangeetha Sampradaya Pradarshini (SSP) on the web a few years ago, now have published the first volume of SSP in print!
May their tribe increase!
-neelanjana
p.s: Parts of this post came from a speech I did at my Toastmasters club a while ago.
Since today is the first full moon of the year, and since it also happens to be the brightest and largest moon of the year, I thought 'Chandra Jyothi' which means 'moon light' makes an apt title for this post.
If you did not notice yet, all full moons are not made equal, and some are bigger than others. And the full moon on January 29,2010 happens to be the biggest, brightest full moon of the year.
But why is today the biggest full moon of the year? We know the Moon's path around the earth is an ellipse. So, the Moon is closer to us at some parts of this path than in other parts. The point where the Moon is closest to the Earth is called the perigee. If a full moon occurs when the Moon is at, or near the perigee in it's monthly travel, then that full moon would be brighter than those when the full moon occurs when the Moon is at other points on its orbit.
To add to this effect, recall Earth moves around the Sun in an elliptical path too. That makes Earth closest to the Sun (and hence the Moon closest to the Sun) in early January every year.  So if a full moon closer to perigee occurs around this time of the year, you get an extra bright moon, like today.
Since today is the day with the brightest 'chandra jyOthi' (moon light), it is no surprise I was reminded of couple of compositions of Tyagaraja in the raga Chandra Jyothi as I was writing this post!
Tyagaraja, the innovator he was, tried out a lot of new melodies that did not exist before his time, and Chandrajyothi is also a raga in which he is the first known composer. He has couple of compositions – and incidentally one starting with the words  'Shashi vadana bhakta janaavana'  (Shashi is one of the words that mean 'Moon' in Samskrta). His  other composition in raga Chandra jyothi , which is probably heard more often in concerts  is  Bagayenayya. Listen to this composition on flute by V K Raman.
All this discussion about the Moon, almost made me forget that I got the Superior Scribbler award from another 'Moon' – Shashi Kulkarni of  'rasAyana'. Yippee!!
And I am really glad to pass this to five other Superior Scribbler fellow bloggers.
So here goes my list:
Sallaapa: A wonderful weblog in Kannada by Sunaath, mostly about literary works in Kannada
MountainTop: I am a fan of Vidya's posts on music, samskrta and alternate history
Mouna Gaala: Kannada blog by Sushruta Dodderi, who specializes in ಲಲಿತ ಪ್ರಬಂಧ
Subhashita Manjari: Regular posts of Samskrta subhashitas – often I use those posted here for my translations to Kannada!
NadhaSudharasa: A very musical blog by Musical Scientist, and Shreekrishna – who,  I must admit,  are even more  Guruguhaphiles than I am! Not recommended for those un-initiated in Karnataka Sangeetha 😉
-neelanjana